Kemarin 24 Januari 2017 Xiaomi secara perdana melakukan flash sale/ penjualan perdananya untuk unit Xiaomi Redmi Note 4 Snapdragon di India. Penjualan versi Snapdragon Redmi Note 4 ini diklaim ludes dan habis terjual dalam rentang waktu 10 menit saja. Tidak tanggung tanggung juga smartphone yang ludes terjual itu sebanyak 250.000 buah Redmi Note 4, Woooowww! Penjualan Redmi Note 4 SD kali ini, menurut mereka, lebih banyak daripada saat penjualan Redmi 3x dan Redmi Note 3 Snapdragon di India yang lalu.
Achievement unlocked – with the love & support from the greatest Mi fans in the world, we present you this! Hit RT now & we'll do the rest! pic.twitter.com/YHSFaVCjTY

— Redmi India (@RedmiIndia) 24 Januari 2017
Seperti biasanya, penjualan smartphone Redmi Note 4 SD ini dilakukan secara online melalui website Flipkart dan Mi.com. Walau untuk saat ini penjualan Redmi Note 4 SD masih sebatas di India, belum secara global, anda juga bisa mengintip link penjualan Redmi Note 4 SD tersebut.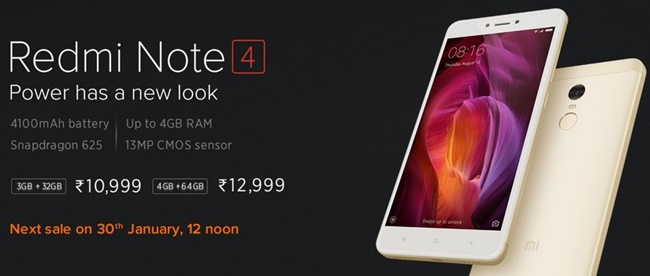 Sukses dengan penjualan perdana Redmi Note 4 Snapdragon ini, Xiaomi menjadwalkan akan melakukan penjualan kedua pada 30 Januari 2017 mendatang di situs Flipkart, sedangkan penjualan kedua di situs Mi.com akan dilakukan pada 3 Februari 2017 mendatang.
Redmi Note 4 Snapdragon yang dijual di India saat ini hanya sebatas pada varian RAM 3GB internal memory 32GB dan varian RAM 4GB internal memory 64GB. Dan untuk warna yang dijual juga masih sebatas warna Gold dan Dark Grey. Untuk harga jual Redmi Note 4 sendiri dari kedua varian itu, untuk yang 3GB+32GB dijual seharga ₹ 10,999 atau sekitar 2,1 jutaan, sedangkan untuk varian 4GB+64GB dijual seharga ₹ 12,999 atau sekitar 2,5 jutaan.
Bagi Mi fans Indonesia yang saat ini sedang menunggu kehadiran Redmi Note 4 SD ke Indonesia, silahkan untuk bersabar menunggu. Mudah mudahan versi Snapdragon dari Redmi Note 4 ini juga dijual di Indonesia, lebih baik lagi kalau dijual secara resmi di Indonesia.